Upcoming Benefit Street Festival with Deer Park Avenue (Munich) and Soirée lundi (Basel)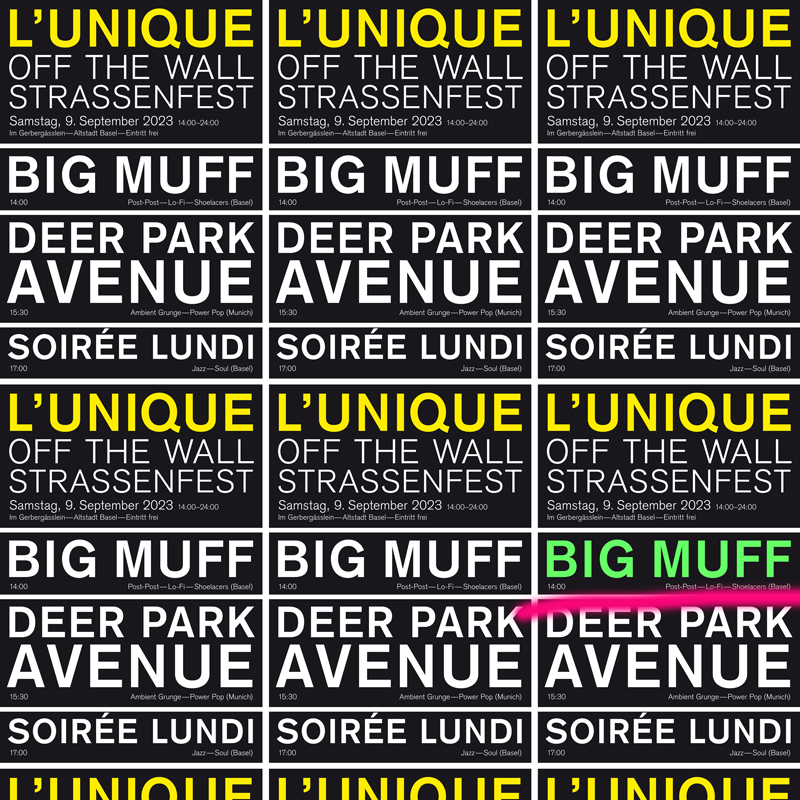 L'Unique Off the Wall
Saturday, 9 September 2023, 14:00 (sharp!)
Gerbergässlein 20, Basel
Come see us at the
L'Unique Off the Wall Rock Festival
in the Altstadt (Old City). We will be kicking off the party at 2pm! All proceeds will go to the L'Unique Foundation, a local charity organization. The foundation uses money obtained by lending pieces from a private collection of significant rock-n-roll art and memorabilia to galleries and museums around the world.
—————
Upcoming show with Mild Crush and Retromorcego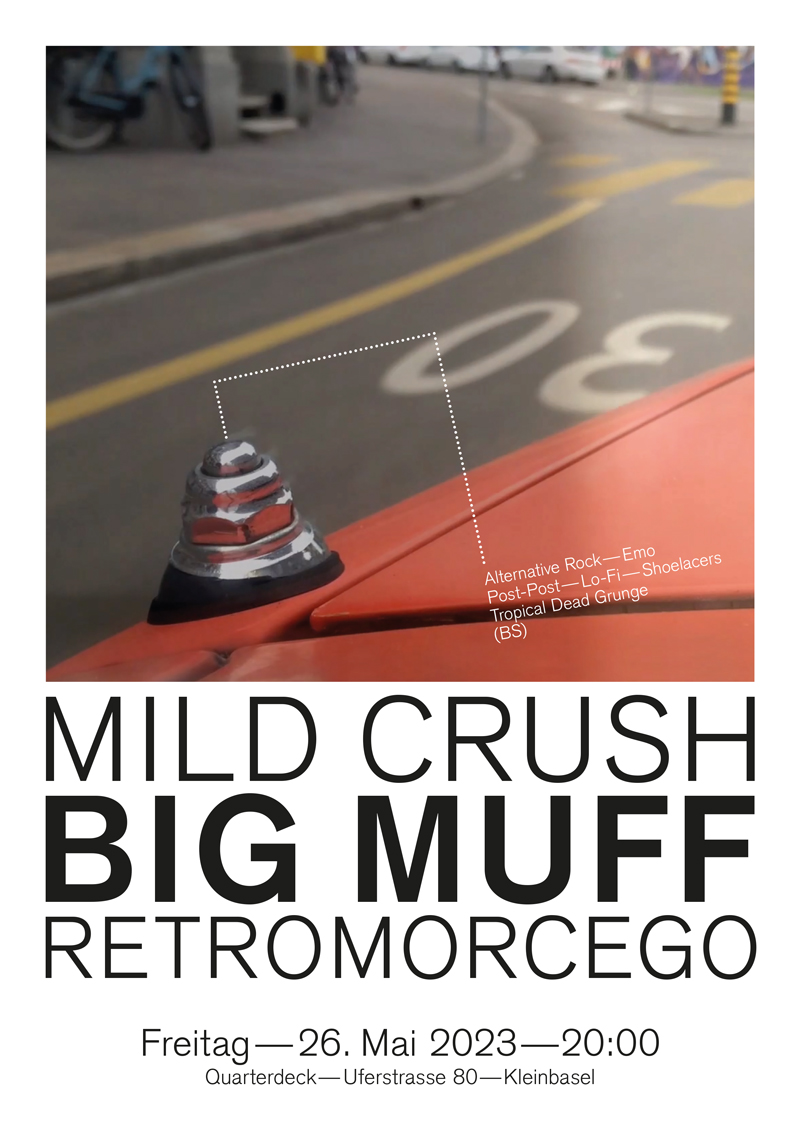 Friday, 26 May 2023, 20:00
Quarterdeck, Uferstrasse 80, Kleinbasel
listen to our new single Red Car
listen to Mild Crush (Alternative/Emo from Basel)
listen to Retromorcego (Tropical Dead Grunge from Basel)
—————
Live in Concert with Motorizer (ZH)
Let's ring in the New Year with a bang!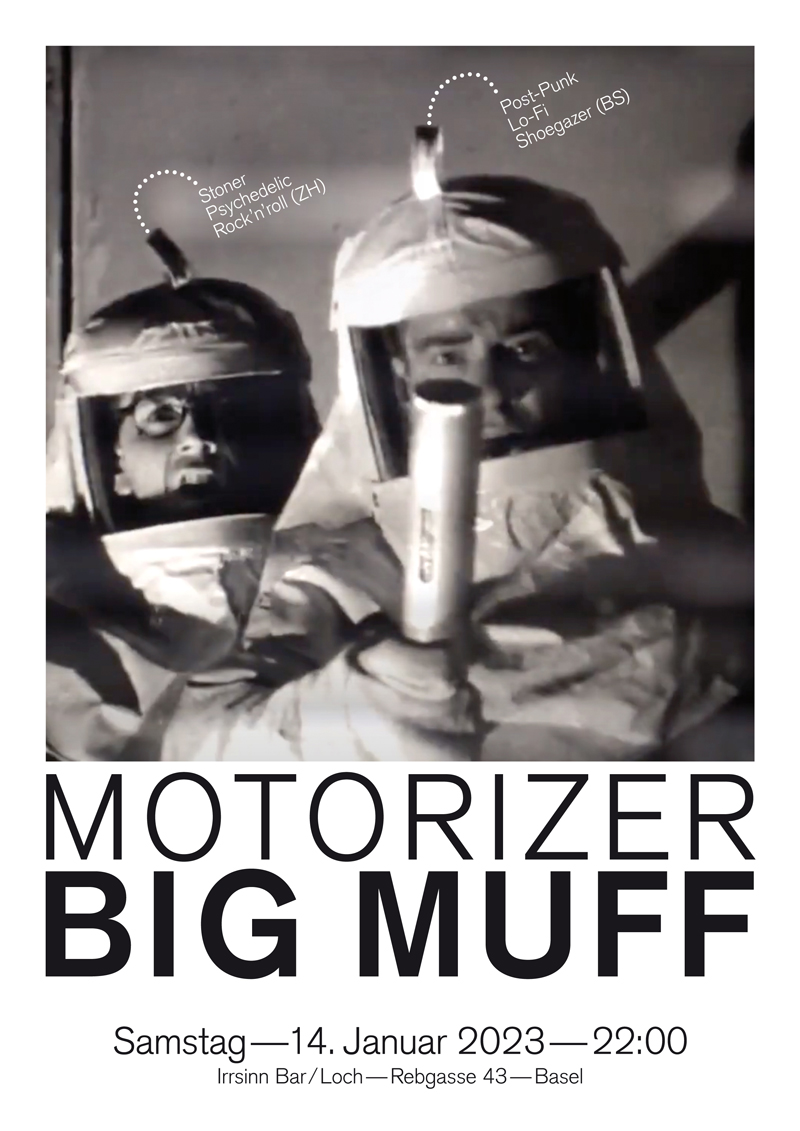 Saturday, 14 January 2023
Doors 20:00
Show 22:00
Irrsinn Bar/Loch, Rebgasse 43, Basel
www.motorizer.ch
—————
Schneckenrennen (Snail Race)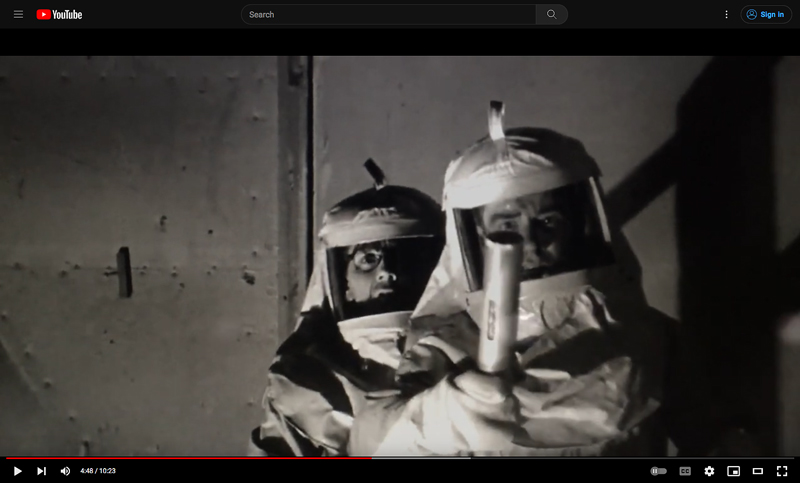 2 December 2022 — We just released a new catchy song and music video. Here are the lyrics in case you want to brush up on your German:
Meine Damen und Herren
Lassen Sie sich nicht erschrecken
Wir haben einen Schnecken im Rennen
Meine Damen und Herren
Sehen Sie die Schnecke?
Die Schnecke versteckt sich im Topf
Meine Damen und Herren
Herzlich Willkommen
Zum Schneckenrennen
Auf Platz eins
Ist eine kleine Schnecke
Auf Platz zwei
Is the, eine mittlere Schnecke
Eine Schnecke mit Schneckenhaus
Meine Damen und Herren
Auf Platz drei
Haben wir wieder eine Schnecke
Eine ganz kleine Schnecke
Eine ganz kleine schwarze Schnecke
Kim die Schnecke
Erschreckend
Kim schmeckt die Schnecke?
Wo ist die Schnecke?
Wo ist meine kleine Schnecke?
Wo ist meine
Kleine, kleine, kleine, kleine
Kleine, kleine, kleine, kleine
Kleine, keine Schnecke?
Das war es
Meine Damen und Herren
Wir haben eine spannende
Schneckenrennen hinter uns
Auf Platz sechs
Is the uh, kleine Schnecke
Schnecke? Schnecke
Auf Platz fünf
Die kleine, andere Schnecke
Meine Damen und Herren
Auf Platz drei
Haben wir wieder eine Schnecke
Eine ganz kleine Schnecke
Eine ganz kleine schwarze Schnecke
Link on YT: Schneckenrennen (Snail Race)
—————
Pop-Up Concert
with Special Guest Johnny Mancini (BS)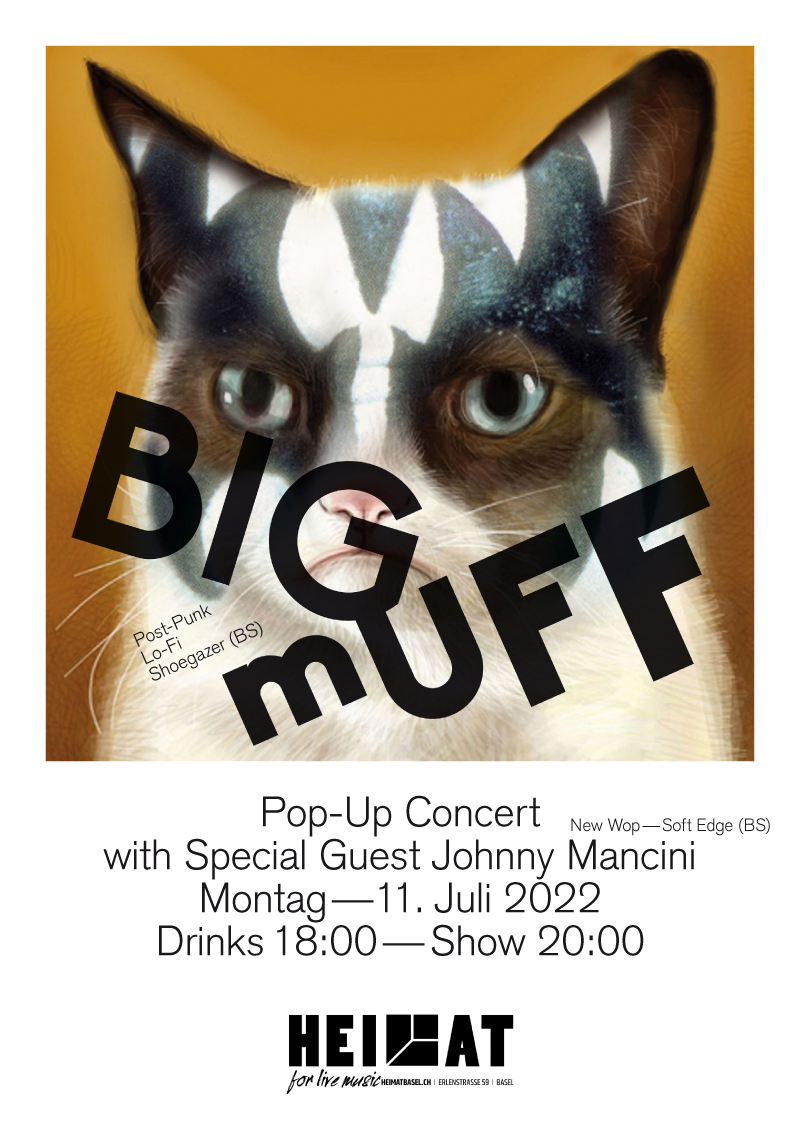 Monday, 11 July 2022
Doors 18:00
Show 20:00
Heimat, Erlenstrasse 59, Basel
Our former guitarist Alessandro the Great is back on the continent for a quickie visit after moving to Boston last year. He will join us for a one-off show in Basel before disappearing again into the sunset. And our friend and new wopper Johnny Mancini will be on stage, showing off his soft edges. Sounds like a midsummer night's dream to us — what more can you ask for?
Thanks very much to Heimat for the quick-as-a-fox booking! And also to 'The Best Guitarist in Basel' Nick Nobody for learning all of our songs blitzschnell so we could play a few shows in the meantime.
—————
Better Late Than Never Tour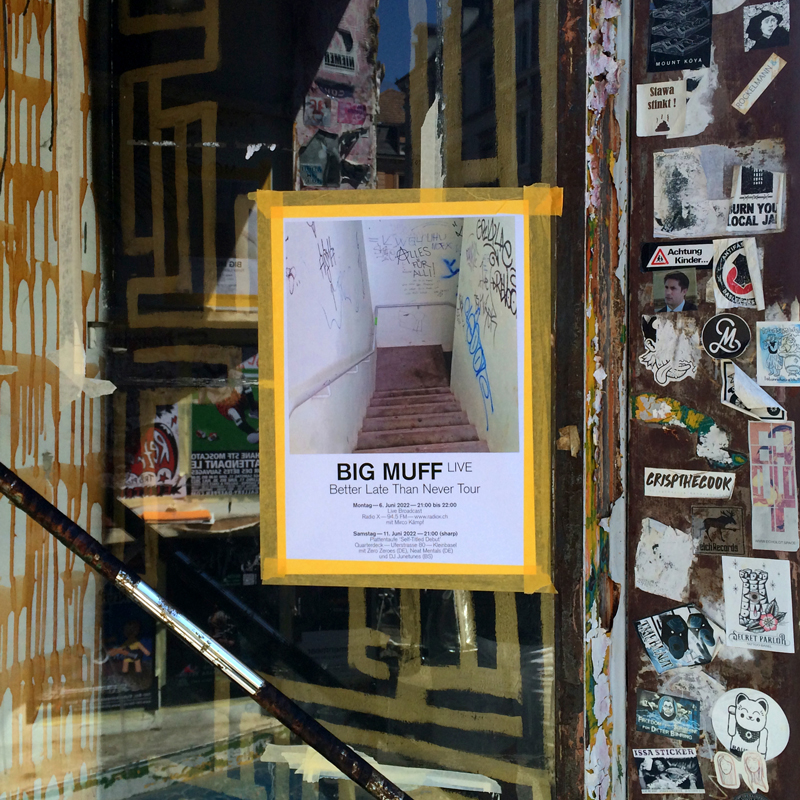 Live Broadcast with Mirco Kaempf
Monday, 6 June 2022
21:00 until 22:00
Radio X (94.5 FM)
www.radiox.ch
Concert, 'Self-Titled Debut' Record Release
Saturday, 11 June 2022
21:00 sharp
with Zero Zeroes (DE), Neat Mentals (DE) and DJ JuneTunes (BS)
Quarterdeck, Uferstrasse 80, Kleinbasel
Bandcamp
Instagram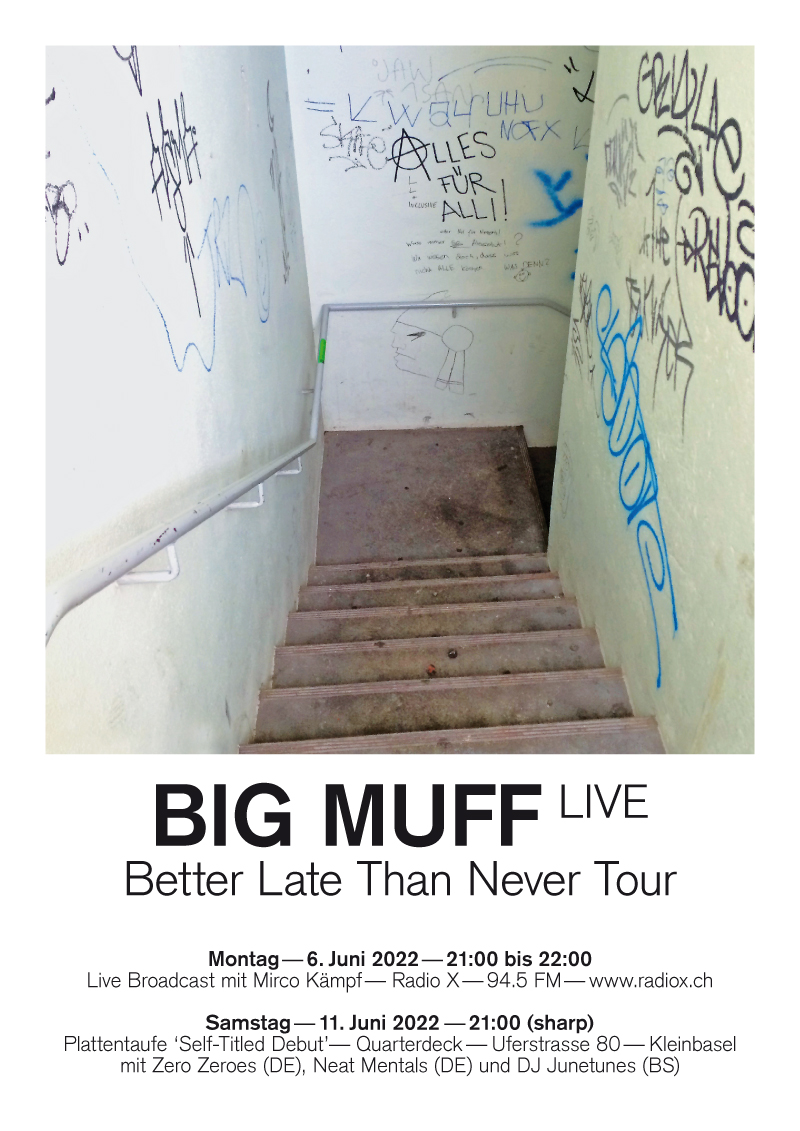 —————
Thanks to Ox Fanzine for the fantastic 9/10 rating!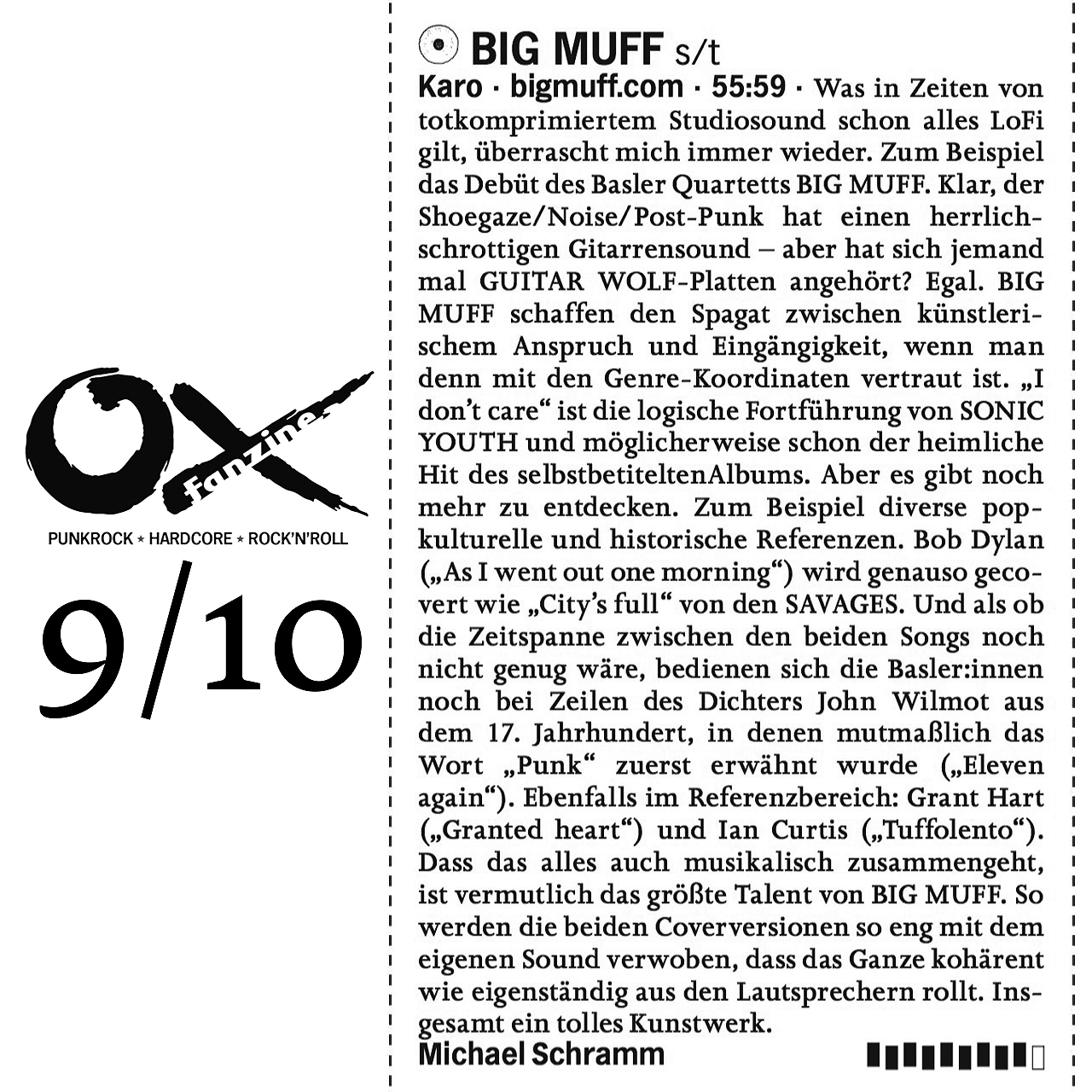 October 2021 — BIG MUFF s/t • bigmuff.com • 55:59 • What already applies to lo-fi in times of dead, compressed studio sound always surprises me. For example, the debut of the Basel quartet BIG MUFF. Sure, the shoegaze/noise/post-punk has a wonderfully scrappy guitar sound – but has anyone ever listened to GUITAR WOLF records? It doesn't matter. BIG MUFF manage the balancing act between artistic aspiration and catchiness, if you are familiar with the genre coordinates.
"I Don't Care" is a logical continuation of SONIC YOUTH and is possibly already the secret hit of the self-titled album. But there is more to discover. For example, various pop-cultural and historical references. Bob Dylan ("As I Went Out One Morning") is just as covert as "City's Full" by SAVAGES. And as if the time span between the two songs was not enough, this band of Basel uses lines by the poet John Wilmot from the 17th century, in which the word "punk" was allegedly first mentioned ("Eleven Again"). Other references on the album include Grant Hart ("Granted Heart") and Ian Curtis ("Tuffolento").
The fact that all of this fits together musically is probably the greatest talent of BIG MUFF. Thus, the two cover versions are so closely interwoven with their own sound that the whole thing rolls out of the speakers not only coherently, but also readily distinguishable. Overall, a great piece of work. — Ox Fanzine No. 158, Michael Schramm
Underdog Fanzine
Bandcamp
Instagram
—————
Big Muff, Self-titled Debute
by Fred Spenner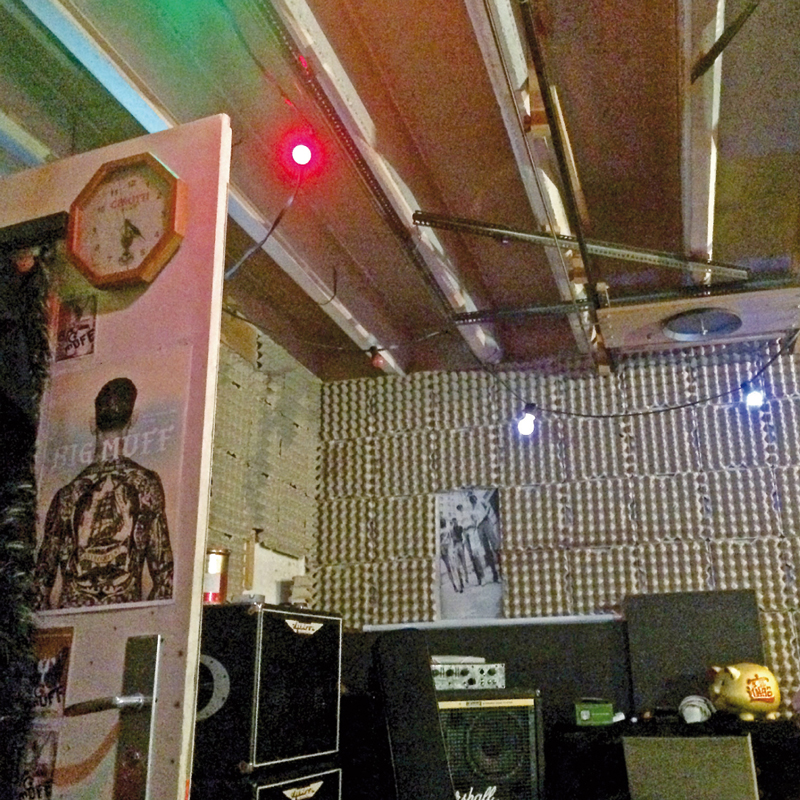 August 2021 — Bach, Beethoven and Big Muff. The composers have an obsession in common, an interest in philosophy, literature and politics. And, of course, music as a touching point, as a bow and as a thank you. Dimensions of evil, madness and free spirit. Artistic aspects can be discovered in abundance in the Big Muff world, where not only the post-punk spirit is floating around, but a beatnik references, with Patti Smith and Kim Gordon sitting on Sue Muff's shoulders, who adapts and channels their whispers. In addition, the music clatters, and they are making noise in their Basel cellar hole, monotonous and in the same tone, until infernal beauties are brought to their limits with noise. Much seems to be unfinished and improvised, harmony and destructiveness are understood as a symbiosis, with avant-garde and art blossoming into a cutting-edge mania. The lo–fi sound is melancholic and, despite the lack of radicalism, magical and intense. (
Underdog Fanzine
, Germany)
2. August 2021 — Bach, Beethoven und Big Muff. Die KomponistInnen haben eine Obsession gemein, ein Interesse für Philosophie, Literatur und Politik. Und natürlich Musik als Berührungspunkt, als Verbeugung und als Danksagung. Dimensionen des Bösen, des Wahnsinns und des freien Geistes. Künstlerische Aspekte lassen sich also zuhauf entdecken in der Big Muff'schen Welt, in der nicht nur der Post Punk-Esprit umherweht, sondern eine Beatnik-Referenz, wenn Sue Muff Patti Smith und Kim Gordon auf den Schultern sitzen hat und ihr Geflüster adaptiert und intoniert. Dazu scheppert, lärmt es im Basler Kellerloch, monoton und gleichtönig, bis infernalische Schönheiten an die Grenze des Noise gebracht werden. Hier scheint vieles unfertig und improvisiert, hier werden Harmonie und Destruktivität als Symbiose verstanden, Avantgarde und Art in cutting-edge Manie aufblühen zu lassen. Das Lo-Fi-Klangbild ist melancholisch und trotz fehlender Radikalität magisch und intensiv. (
Underdog Fanzine
, Deutschland)
Underdog Fanzine
YouTube
Bandcamp
Instagram
—————
Big Muff: Post-punk from the Basel Underground
by Mirco Kaempf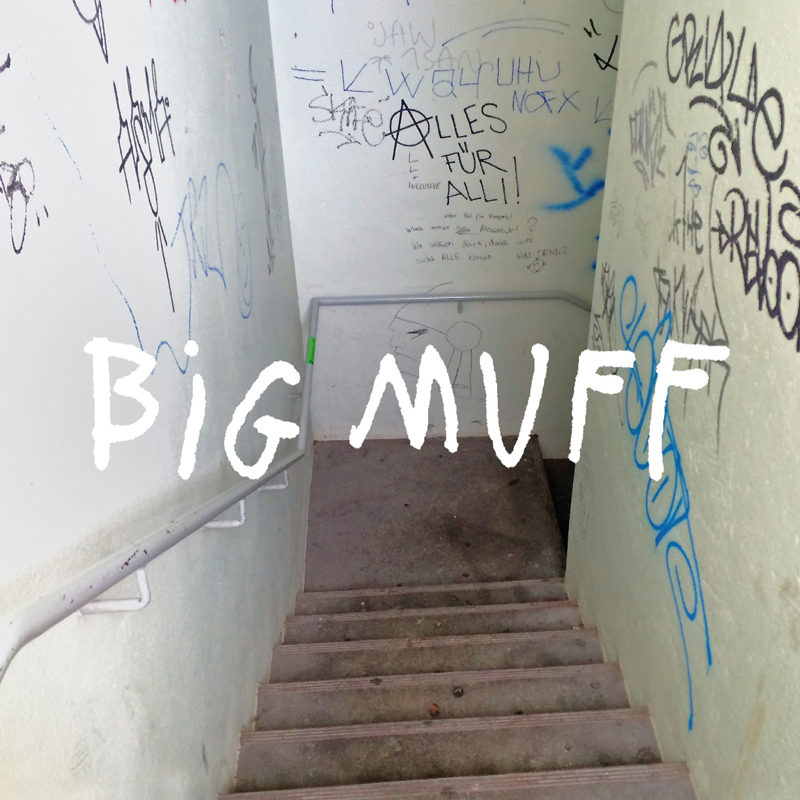 21 July 2021 — What does the debut album of a band sound like that has been rumbling around in the basement of the local music scene for 26 years? We met up with the band in their rehearsal space and had to think: pretty knackered! — as in the best sense of lo-fi aesthetics.
'Say what you mean, mean what you do.' It seems that the line of this song — sung like a mantra by singer Sue Muff — is one of the main rules that the anarchy-inspired band Big Muff likes to follow. After 26 years of smoky rooms, cans of beer and excessively loud sound, Big Muff's music seems sincere, brittle; like a dark fog with some bright cracks, draped with an echo from the past. Like no other band in Basel, Big Muff's sound conjures up spirits which appear and recede in the lyrics: The 14 songs on the debut album (to be released on 26 July) get cozy and within touching distance of Bob Dylan and The Dirty Projectors. They conjure up a perception of Ian Curtis, interweave conversation snippets by Hüsker Dü drummer Grant Hart and, at the same time, dedicate a song to the 2nd Earl of Rochester, John Wilmot, a 17th century English poet who is said to have used the ominous word 'punk' for the first time in written history.
For ten years, New Yorker Sue Muff's first guitar was just laying around in her room. But in Basel everything turned out quite differently — inspired by the ongoing vibrance of the Riot Grrrl movement in the early 90s, she decided to form a band with a drummer who was just starting to play drums. They were then joined by bassist Cri Muff, who had never held a bass in her hands. But who needs skills if they all have the right attitude? In keeping with the DIY ethos of rock & roll and punk history, they started out making a lot of noise and covered bands they liked, such as Bikini Kill, L7, Dead Moon. "Just like the generations of classical musicians who perform Bach and Beethoven, we spent our early years interpreting­ post-punk classics, learning to play our instruments, honing our vocal chords and finding our sound." And for the record, the 'Big Muff' distortion pedal was the first guitar pedal that these punks used. Actively participating in a vision of destruction, they didn't just have one of these, but all members bought the same pedal.
The current lineup of Big Muff consists of four members: Sue Muff (vocals, guitar), Cri Muff (bass), Ale Muff (guitar) and Pete Muff (drums). Their songs are about Asian tapeworms, cicadas or (compared to the New York punk club CBGB's) a slightly better quality toilet bowl in the building where they have their rehearsal space. The Flatterschafft Arts Center is where the band has been playing these songs since 2013. Their room is a living space for these music freaks and it is also the main subject of the 20-page booklet that goes along with the CD. Not only was it the place where the songs were created, but it also served as a kind of anti-recording studio for the album. The lo-fi sound is especially important to the band, as Pete Muff explained: "I hope you hear that it's humans making the music and not machines."
Big Muff's self-titled debut album will be released next Monday, 26 July 2021.
Radio X — Music Tip
YouTube
Bandcamp
Instagram
Website
—————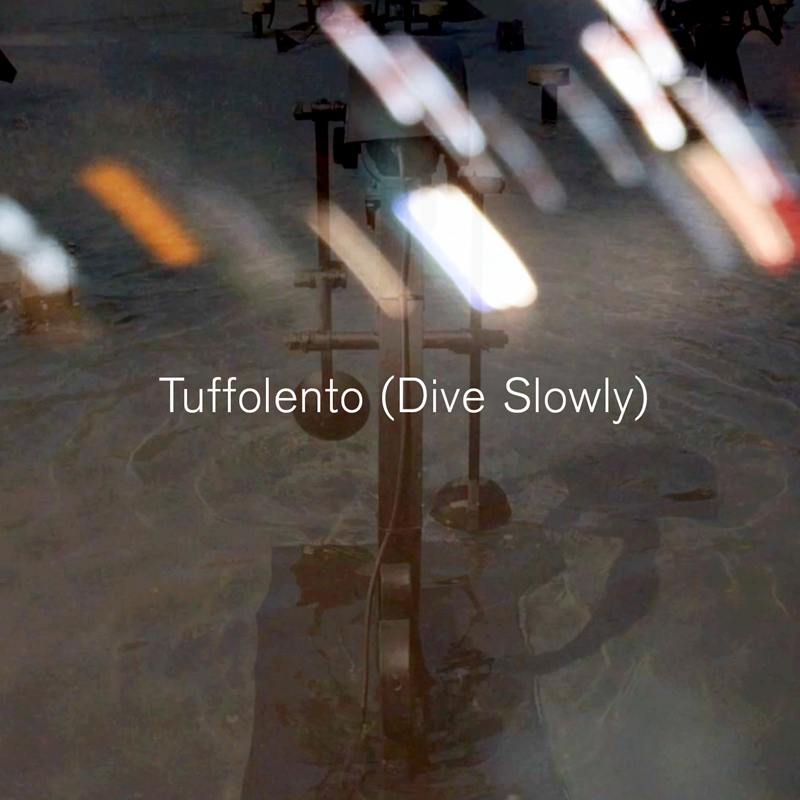 12 July 2021 — We just released
Tuffolento (Dive Slowly)
, the first single from our upcoming self-titled debut album.
Official video
Bandcamp
Instagram
—————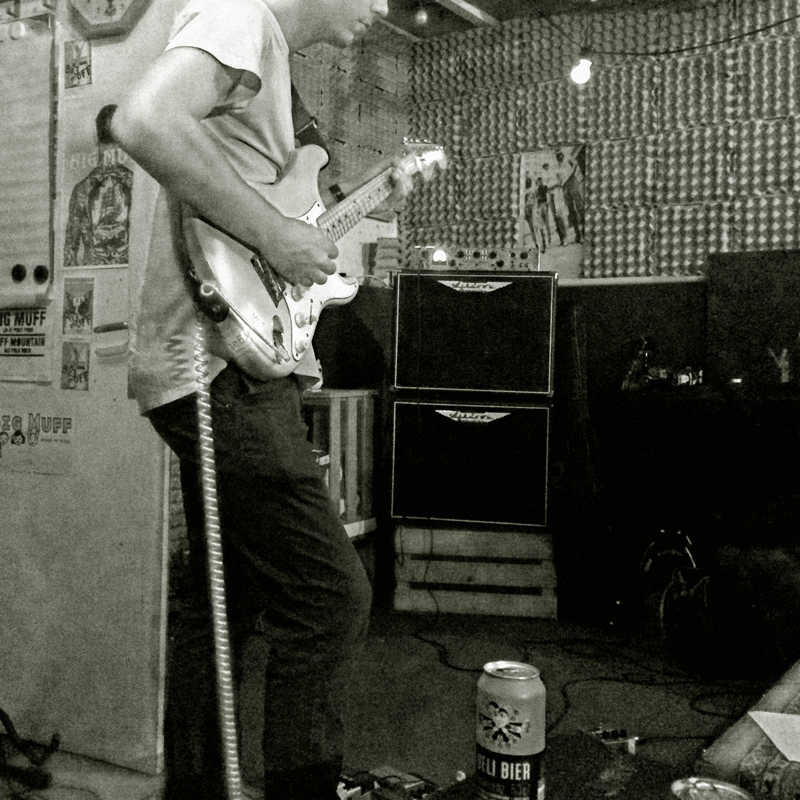 Unbelievable but true: Our debut album is almost finished!
June 2021 — After so many years of hiding out in our cave, our debut album will be released this summer! 14 songs, limited edition with handmade silkscreened covers. Please pre-order your copy now.
—————
Cancelled due to the C-word — to be rescheduled
Upcoming show: DIY attitude
Do we want it all played perfectly? Contemporary music is often compromised by diseases of modern civilization: Fiddling around with too many knobs, perfecting the sound to the point of overkill.
Big Muff strips back all of this nonsense (a.k.a. humbug) and serves up a plate of distortion and dissonance — inspired by noise rock, early punk and shoegazing. This four piece band (2 guitars, bass and drums) creates sonic worlds with authenticity and drive, spitting out suggestive words of satire and wit.
Say what you mean, mean what you do. Put a beat to it, yeah.
Performing all new songs.
With supporting act 'Unternehmen Sauberkeit' (BS).
Humbug Club, Klybeckstrasse 241, Basel
Friday, 31 July 2020
Doors open at 7 pm, concert begins at 9:30 pm
—
Aufgrund des C-Wortes abgesagt — Konzert wird verschoben
DIY-Haltung
Wollen wir, dass alles perfekt gespielt wird? Zeitgenössische Musik wird oft von Zivilisationskrankheiten geprägt: An zu vielen Knöpfli herumfummeln, den Klang kaputtperfektionieren.
Big Muff zieht all diesen Unsinn (alias Humbug) zurück und serviert einen Teller voller Verzerrungen und Dissonanzen – inspiriert von Noise Rock, frühem Punk und Shoegazing. Diese vierköpfige Band (2 Gitarren, Bass und Schlagzeug) schafft Klangwelten mit Authentizität und Wucht, spuckt suggestive Worte von Satire und Witz aus.
Sag was du meinst, meine was du tust. Setz einen Beat dazu, yeah.
Brandneue Songs. Mit Support von 'Unternehmen Sauberkeit' (BS).
Humbug Club, Klybeckstrasse 241, Basel
Freitag, 31. Juli 2020
Doors 19:00, Konzertbeginn 21:30
—————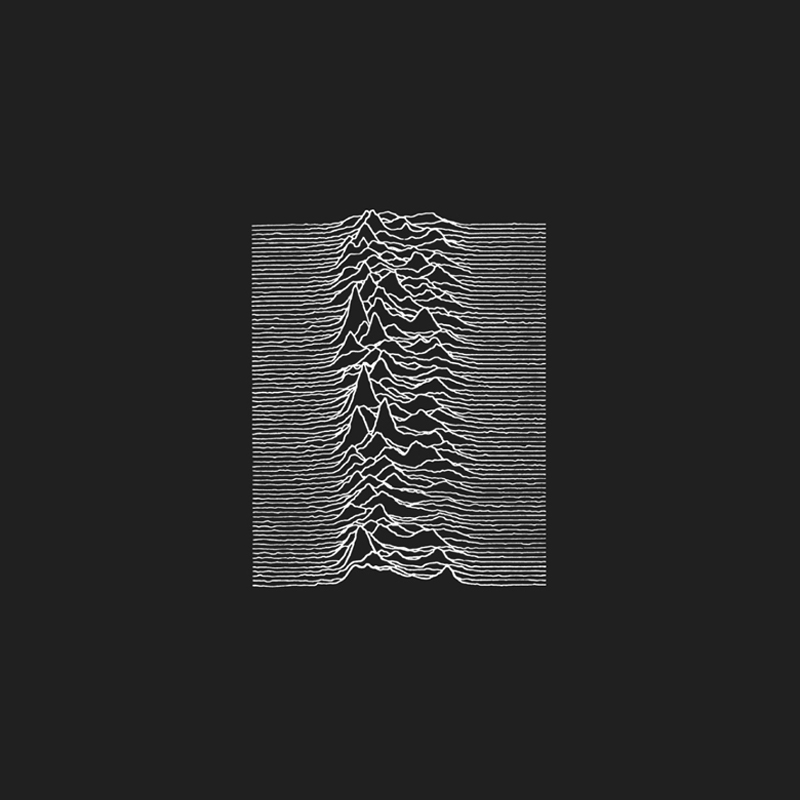 Celebrating 40 Years of Joy Division's
Unknown Pleasures
In honour of the 40th anniversary of Joy Division's 1979 debut album
Unknown Pleasures
, four local musicians will be performing the full album from front to back. The supergroup
Shadowplay
includes members of Big Muff, Nobody Reads and Totem Nevada – with Sue (vocals), Cri (bass), Nick (guitar) and Tobija (drums) – and promise a hair-raising performance.
The iconic album sleeve was designed by Joy Division and Peter Saville and depicts 100 consecutive pulses from the pulsar CP 1919. A pulsar is the remnant after a dying sun collapses in on itself.
Thursday, 19 December 2019
Renée Bar, Klingental 18, 4058 Basel
Bar opens at 17:00, concert begins at 23:00
Free entry – Pay what you want
From SBB --> Tram 8 (direction Weil) --> Kaserne
—————
8 November 2019 — Just finished mixing the eleven tracks that we plan to release in early 2020.
>
Visit our YouTube channel
—————
19 July 2019 — We will be recording some demos in the beginning of August with our highly-skilled friends
Treelove
from Vienna!
The plan is to get out of the cave later this autumn for a concert with some of our new songs. Stay tuned!
In the meantime, check out these
Treelove
videos:
>
Extrovertiert
>
Schau was passiert
—————
Past Shows and Events
2023-05-26: Quarterdeck with Mild Crush and Retromorcego
2023-01-14: Irrsinn Bar/Loch with Motorizer (ZH)
2022-07-11: Heimat with Johnny Mancini
2022-06-11: Quarterdack, Record Release Show with
Zero Zeroes
(DE)
and
Neat Mentals
(DE)
2022-06-06: Radio X, Live Broadcast with Mirco Kämpf
2021-07-21: Radio X, Post-Punk aus dem Underground Interview
2019-12-19: Radio X, Shadowplay: Zur Beschwörung des Geistes
von Joy Division, Interview (Tribute Concert)
2018-09-15: Flatterschafft with
Missling
(BS)
2016-11-19: Kulturbeiz 113 (Matinée Show)
2015-09-26: Kaschemme, Derby-Grrls Benefit (Point of No Return/
Hit Like a Girl Tour) with
Könige kleiner Länder
,
Kalles Kaviar
and
Die Freilandkühe
2015-08-22: Klybeckfest with
George and the Cube
,
Prekmurski Kavbojci
2014-12-20: Archiv, Lehenmattstrasse
2014-09-11: Kasko with
Dr. Kuckkuck's Labrador
2014-07-19: Café la Cuna, 40°C No Tattoo Tour
2013-10-18: Flatterschafft Opening Party with
Räpetoire
2012-11-29: Café la Cuna Benefit Show with
Puff Mountain
2012-03-23: Wedding Party, Ostquay with
Big Pile of Bones
2010-10-15: Danny's Birthday with
Wild At Heart
, Culturium
2009-11-xx: Wielandplatz Goodbye with
Shilf
und
Big Pile of Bones
2009-03-29: Jägerhalle with
Oh Well
2007-07-xx: Day Roof Party #3: Goodbye Mikie Party, Barfüsserplatz
2005-01-26: Wagenmeister with
Gabardine
(ZH)
2004-05-09: Klybeck-Genossenschaftsfest, Neue Kino
2003-xx-xx: Rialto Bar
2002-09-27: Bar Offen (ZH) with
Honeyryder
(ZH)
2002-xx-xx: Basta! Party, Sudhaus
2002-03-23: Volksdruckerei House Party
2000-11-xx: Little Muff Unplugged, Volksdruckerei
2001-08-18: Day Roof Party #2, Barfüsserplatz
2000-08-01: Day Roof Party #1, Barfüsserplatz
(All shows and events were held in Basel unless otherwise specified)
—————
Something to read
Steve Albini, 1993: The Problem with Music
Steve Albini, 2014: The Internet has Solved Music's Problem
Steve Albini, 2016: I try to be an ally in feminism
—————